Lane #1 Blue Death Massacre Bowling Balls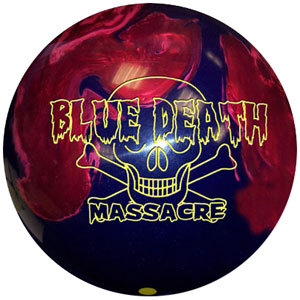 Currently Not Available
Blue Death Massacre Specs
Coverstock Name:
Pure Explosion 50% Pearl / 50% Solid Hybrid
Factory Finish:
2000-grit Abralon
Core Name:
Bomb MassaCORE
This product (#7655) is not available.
Similar Products
AMF 300
Hybrid Mamba COUNTDOWN DEAL
$78.99
Perfect Scale®: 214.2
Storm
IQ Tour Pearl
$142.99
Perfect Scale®: 211.9
900 Global
The NUTS COUNTDOWN DEAL

$68.99
Perfect Scale®: 212.2
The Blue Death is thrown at the pins with an infectious disease. Perfectly healthy pins fall over in numbers with our new Pure Grip / Explosion 50% Solid, 50% Pearl Hybrid Coverstock.

Combining this with our Highly Lethal Bomb MassaCore and you deliver strikes and high scores of epidemic proportions. The pins are waiting to die.



The Perfect Scale®: Helping Bowlers Make Better Decisions. Because each manufacturer uses a different method for indicating a ball's hook potential, bowlingball.com developed a way for the consumer to compare bowling balls across all manufacturers.
See what other people are saying about the Blue Death Massacre Bowling Balls by reading customer reviews