Lane #1 Buzz Bomb 2nd Bowling Balls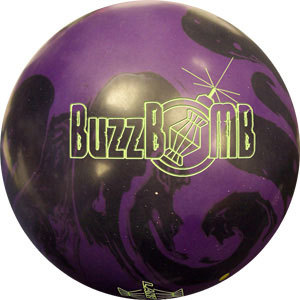 Currently Not Available
Buzz Bomb 2nd Specs
Coverstock Name:
Pure GripTM solid reactive
Factory Finish:
1000 Grit Dull
Core Name:
Doomsday Bomb2
This product (#7644) is not available.
Similar Products
Brunswick
Meanstreak Beatdown MEGA DEAL
$109.95
Perfect Scale®: 198.7
Hammer
Black Widow

$129.99
Perfect Scale®: 198.8
DV8
Diva Pearl
$124.95
Perfect Scale®: 198.4
Lane #1 introduces a new force in the bowling industry that outhooks all others.



The BuzzBOMB is packed with our all new double sided Doomsday Bomb2 core. This Doomsday double Bomb core generates double the torque, creating double the hook on the backend.



Surrounding this nuclear power plant is our all new Pure GripTM solid reactive coverstock. This new formula grips the lanes on the heaviest oil. You won't believe your eyes when you see this midlane Hook Monster explode with a Huge Backend.



Hear the Buzz, see the Hook, watch your High Scores double with the BuzzBOMB..!!

---
What is a Second?
A second is the same ball with color pattern issues. Balls look great though. A second has the following:



Same core

Same reaction

Same coverstock

Same warranty

IT IS ALSO USBC APPROVED
A product can classify as a second for any of the following reasons:


Unique Pin/CG Placement, Top Weight, and Mass Bias Location

Small Pitting in the Coverstock

Discoloration

All seconds come with the same manufacturers warranty as first quality balls.
NOTE: Due to the limited availability of Blems, X-Outs, and Seconds pin placement and top weight are not guaranteed.

The Perfect Scale®: Helping Bowlers Make Better Decisions. Because each manufacturer uses a different method for indicating a ball's hook potential, bowlingball.com developed a way for the consumer to compare bowling balls across all manufacturers.
See what other people are saying about the Buzz Bomb 2nd Bowling Balls by reading customer reviews