Lane #1 Dynamo 2nd Bowling Balls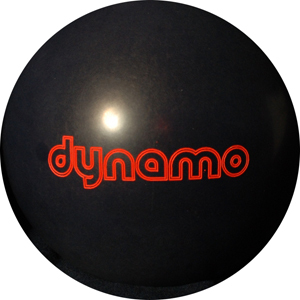 Currently Not Available
Dynamo 2nd Specs
Coverstock Name:
CATEGORY-5
Factory Finish:
4000 Grit Abralon
Core Name:
HurricaneTM Patented Diamond
This product (#7642) is not available.
Similar Products
Ebonite
Challenge 15 Only
$159.99
Perfect Scale®: 206.5
Pyramid
Dark Path Hybrid NEW ITEM
$109.99
Perfect Scale®: 204.7
900 Global
Dirty Look 12 16 ONLY
$99.99
Perfect Scale®: 203.5
The Dynamo featuring our all new Hurricane Diamond core, is a powerplant of Destruction waiting to happen. The Dynamo's super low RG Hurricane Core builds energy like a powerplant immediately upon release. Engulfed by our new cutting edge CATEGORY-5 Coverstock, the Dynamo cuts through the heaviest oils eliminating over-under.

From start to finish, the Dynamo builds energy, wanting to hook and unload its massive bundle of power onto the pins. Hopefully the lane will be wide enough...

Features:


Core: Hurricane Patented Diamond


Coverstock: Category 5


Finish: 4000 Grit Abralon


---
What is a Second?
A second is the same ball with color pattern issues. Balls look great though. A second has the following:



Same core

Same reaction

Same coverstock

Same warranty

IT IS ALSO USBC APPROVED
A product can classify as a second for any of the following reasons:


Unique Pin/CG Placement, Top Weight, and Mass Bias Location

Small Pitting in the Coverstock

Discoloration

All seconds come with the same manufacturers warranty as first quality balls.
NOTE: Due to the limited availability of Blems, X-Outs, and Seconds pin placement and top weight are not guaranteed.

The Perfect Scale®: Helping Bowlers Make Better Decisions. Because each manufacturer uses a different method for indicating a ball's hook potential, bowlingball.com developed a way for the consumer to compare bowling balls across all manufacturers.
See what other people are saying about the Dynamo 2nd Bowling Balls by reading customer reviews