Lane #1 ChainSaw Massacre Bowling Balls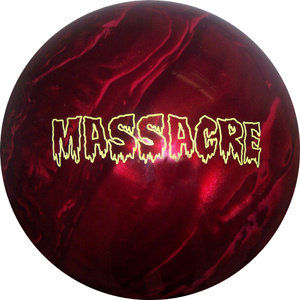 Currently Not Available
ChainSaw Massacre Specs
Coverstock Name:
Bleeder Pearl
Factory Finish:
Highly Polished
Core Name:
MassaCore Patented Diamond Flip Block
This product (#7043) is not available.
Similar Products
Track
300A
$92.99
Perfect Scale®: 157.5
Brunswick
Johnny Petraglia Vintage LT-48
$109.95
Perfect Scale®: 164.5
Track
300C Solid
$93.99
Perfect Scale®: 155.44
Lane #1 is pleased to introduce the new Chainsaw Massacre. This pin slaughtering machine is covered by our popular pearl Bleeder Coverstock and driven by our famous bomb shaped MassaCORE.



The Chainsaw Massacre bites down hard, butchering medium oiled lanes. Watch this ball carve through the pins, turning them into sawdust for a massacre of high scores!!



















The Perfect Scale®: Helping Bowlers Make Better Decisions. Because each manufacturer uses a different method for indicating a ball's hook potential, bowlingball.com developed a way for the consumer to compare bowling balls across all manufacturers.
See what other people are saying about the ChainSaw Massacre Bowling Balls by reading customer reviews