Lane #1 Uranium HRG Bowling Balls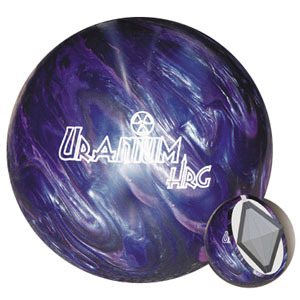 Currently Not Available
Uranium HRG Specs
This product (#4962) is not available.
Similar Products
Roto Grip
Rumble
$94.99
Perfect Scale®: 178.2
Brunswick
Strike King Blue/Red Pearl
$79.99
Perfect Scale®: 179.7
DV8
Misfit Pearl Neon Yellow MEGA DEAL
$72.99
Perfect Scale®: 179.4
The reaction of higher Rg with the hitting power of low Rg. Another innovation from Lane #1!

By removing the dense inner component to our explosive Uranium TM core and replacing it with a new light-weight filler material and wrapping the ball in our totally new Detonator TM coverstock, the Uranium HRG TM will read the lanes more like a higher Rg ball, giving you more length than our previous Uranium TM balls, while still maintaining the explosive, high revving, pin shattering, low Rg characteristics of our Uranium TM core.



This is definitely the ball to experience the power of a Buzzsaw!

The Perfect Scale®: Helping Bowlers Make Better Decisions. Because each manufacturer uses a different method for indicating a ball's hook potential, bowlingball.com developed a way for the consumer to compare bowling balls across all manufacturers.
See what other people are saying about the Uranium HRG Bowling Balls by reading customer reviews