Lane #1 Cobalt Bomb Solid Bowling Balls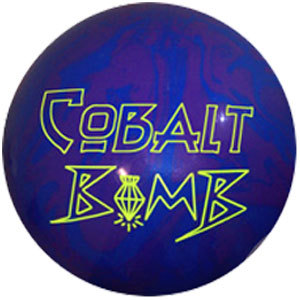 Currently Not Available
Cobalt Bomb Solid Specs
This product (#4645) is not available.
Similar Products
Radical
Torrid Elite MEGA DEAL
$89.99
Perfect Scale®: 181.9
Roto Grip
Wrecker
$99.99
Perfect Scale®: 182.8
DV8
Misfit Green/White MEGA DEAL

$73
Perfect Scale®: 182.2
A new and terrible danger for bowlers worldwide, Lane #1 Cobalt Bomb leaves a wide path of destruction on medium to heavier oiled lanes as it glides quicker and flips harder down the lane, destroying pins. More hazardous then Uranium238 due to its long half life, the Cobalt Bomb gains its energy from the combination of our Doomsday Dirty Bomb core with an intensely radioactive Fusion 105 coverstock. An Atomic force unmatched in bowling today, the Cobalt Bomb puts the pins and the competition in danger.

The Perfect Scale®: Helping Bowlers Make Better Decisions. Because each manufacturer uses a different method for indicating a ball's hook potential, bowlingball.com developed a way for the consumer to compare bowling balls across all manufacturers.
See what other people are saying about the Cobalt Bomb Solid Bowling Balls by reading customer reviews