Hammer No Mercy Beat'N X Out Bowling Balls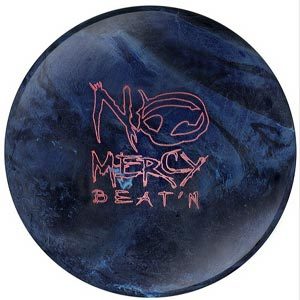 Currently Not Available
No Mercy Beat'N X Out Specs
This product (#5931) is not available.
Similar Products
Hammer
Jigsaw Corner X-Out

$114.95
Perfect Scale®: 208.5
Ebonite
Challenge 15 Only
$159.99
Perfect Scale®: 206.5
Hammer
Black Widow Assassin
$134.95
Perfect Scale®: 208.9
The No Mercy Beat'n features the same HART concept core found in the original No Mercy combined with the new Violent Hook Reactive coverstock to produce excellent all-purpose ball motion. Compared to the original No Mercy, the No Mercy Beat'n will provide more length, more aggressive backend reaction, and more total hook.

What is an X-Out?

An X-Out is the same ball with color pattern issues. Balls look great though. An X-Out has the following:



Same core

Same reaction

Same coverstock

Same warranty

IT IS ALSO USBC APPROVED
A Hammer product can classify as an X-Out for any of the following reasons:


Unique Pin/CG Placement, Top Weight, and Mass Bias Location

Small Pitting in the Coverstock

Discoloration

All Hammer X-Outs come with the same manufacturers warranty as first quality balls.
NOTE: Due to the limited availability of Blems, X-Outs, and Seconds pin placement and top weight are not guaranteed.

The Perfect Scale®: Helping Bowlers Make Better Decisions. Because each manufacturer uses a different method for indicating a ball's hook potential, bowlingball.com developed a way for the consumer to compare bowling balls across all manufacturers.
See what other people are saying about the No Mercy Beat'N X Out Bowling Balls by reading customer reviews