Ebonite Mission $250K Bowling Balls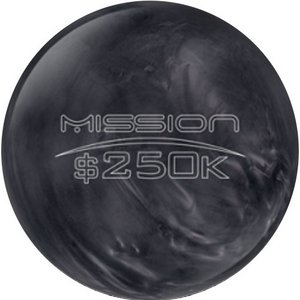 Currently Not Available
Mission $250K Specs
Breakpoint Shape:
Length, with strong backend continuation
Factory Finish:
800 Abranet, 1000, 2000, 3000 Abralon
This product (#9127) is not available.
Similar Products
Hammer
Taboo Jet Black

$164.95
Perfect Scale®: 201.6
Ebonite
Champion
$145
Perfect Scale®: 202.9
900 Global
Dirty Look 12 16 ONLY
$99.99
Perfect Scale®: 203.5
Two Missions down, this is getting easy. If you thought the first two were great, just wait for this one. It's the Ebonite Mission Domination $250k.

When you've given your best, and you still need that edge, the Mission Domination will be there for you. The most EXCITING Mission to date, the Mission Domination features the all new XL1300 Reactive Resin veneer. XL1300 yields the most backend continuation of the Mission Series. The performance of this ball will be completely DOMINATING!

The Perfect Scale®: Helping Bowlers Make Better Decisions. Because each manufacturer uses a different method for indicating a ball's hook potential, bowlingball.com developed a way for the consumer to compare bowling balls across all manufacturers.
See what other people are saying about the Mission $250K Bowling Balls by reading customer reviews