Ebonite Total NV X Out Bowling Balls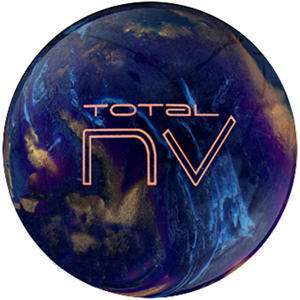 Currently Not Available
Total NV X Out Specs
This product (#5125) is not available.
Similar Products
Hammer
Jigsaw Corner X-Out

$114.95
Perfect Scale®: 208.5
Ebonite
Pursuit 15 Only COUNTDOWN DEAL

$109.95
Perfect Scale®: 208.30
AMF 300
OMG! Pearl 12 16 ONLY

$104.99
Perfect Scale®: 209.9
The name Total NV stands for Totally New Veneer!! In our continued pursuit to be the innovator in coverstock technology, the R & D chemist team at Ebonite has identified another component in coverstock performance.

In the One series, we explored the effect of absorption rates on hook potential. In the NV series, we will be demonstrating the effect of surface texture on hook potential. We have found that, by manipulating this component, we can enhance total hook and backend motion. We now have two unique tools to use to make Ebonite performance products the state of the art in bowling ball technology.

We are not forgetting absorption rates. Veneer absorption rate is one of the key elements of ball performance, but we now believe that surface texture is just as important in creating dynamic ball motion. By using both of these tools, we feel that Ebonite will continue to dominate the performance ball market.

What is an X-Out?

An X-Out is the same ball with color pattern issues. Balls look great though. An X-Out has the following:



Same core

Same reaction

Same coverstock

Same warranty

IT IS ALSO USBC APPROVED
A Ebonite product can classify as an X-Out for any of the following reasons:


Unique Pin/CG Placement, Top Weight, and Mass Bias Location

Small Pitting in the Coverstock

Discoloration

All Ebonite X-Outs come with the same manufacturers warranty as first quality balls.
NOTE: Due to the limited availability of Blems, X-Outs, and Seconds pin placement and top weight are not guaranteed.

The Perfect Scale®: Helping Bowlers Make Better Decisions. Because each manufacturer uses a different method for indicating a ball's hook potential, bowlingball.com developed a way for the consumer to compare bowling balls across all manufacturers.
See what other people are saying about the Total NV X Out Bowling Balls by reading customer reviews