Ebonite The One - Original Bowling Balls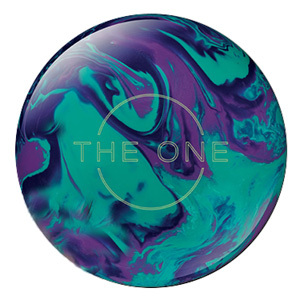 Currently Not Available
The One - Original Specs
Core Name:
Centrex Symmetrical Mass Bias
This product (#3874) is not available.
Similar Products
Motiv
Tribal
$131.99
Perfect Scale®: 199.8
Track
916 All Terrain

$109.99
Perfect Scale®: 199.9
Brunswick
Meanstreak Beatdown MEGA DEAL
$109.95
Perfect Scale®: 198.7
Introducing Ebonite The One - leading the way in the new high performance series from Ebonite. And The One doesn't waste anytime getting to the point. With the advanced GB-10.7 coverstock, the veneer shell absorbs oil at an astounding rate. This translates into more direct contact with the lane surface and a higher degree of friction as the ball exits the oil pattern. The result is a lightning quick turn straight to the pocket. With one roll you'll agree, this is The One for you.

The Perfect Scale®: Helping Bowlers Make Better Decisions. Because each manufacturer uses a different method for indicating a ball's hook potential, bowlingball.com developed a way for the consumer to compare bowling balls across all manufacturers.
See what other people are saying about the The One - Original Bowling Balls by reading customer reviews