Ebonite Cyclone Performance Ball/Bag/Accessories Package Bowling Balls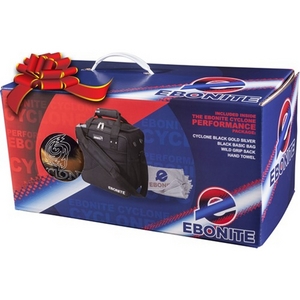 Click Below
To View



Cyclone Black/Gold/Silver


Basic Single Black
Cyclone Performance Ball/Bag/Accessories Package Specs
Breakpoint Shape:
Length with Strong Backend Reaction
Factory Finish:
4000 Abralon, Polished with Powerhouse Factory Fin
Core Name:
Cyclone Torque
Color(s):
Orange,Gold,Silver,Black,Grey
People Who Bought Ebonite Cyclone Performance Ball/Bag/Accessories Package Also Bought:
The Ebonite Performance Package makes the perfect gift because it comes with all the beginner bowler's basic needs. Get yours while supplies last. This Performance Pack includes:



Ebonite Cyclone


Ebonite Basic Black Bowling Bag


Ebonite Hand Towel in Grey


Ebonite Wild Grip Sack
This is the way to outfit your favorite bowler with the latest gear in one purchase!
**NO CHANGES OR SUBSTITUTIONS CAN BE MADE**
See what other people are saying about the Cyclone Performance Ball/Bag/Accessories Package Bowling Balls by reading customer reviews