Columbia 300 Action Attack Bowling Balls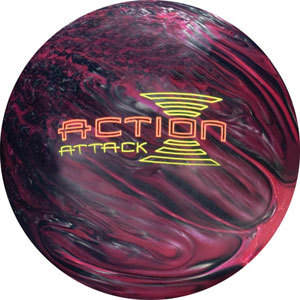 Currently Not Available
Action Attack Specs
This product (#4928) is not available.
Similar Products
Ebonite
Pursuit 15 Only COUNTDOWN DEAL

$109.95
Perfect Scale®: 208.30
Hammer
Jigsaw Corner X-Out

$114.95
Perfect Scale®: 208.5
Lane #1
Boom-R'ANG 15 Only

$119.99
Perfect Scale®: 209.8
Lock and load with the new Columbia 300 Action Attack! Armed with the battle-ready Centrifuge core and a new Tech-3000 coverstock finish, the low RG, high-flare Action Attack powers you into combat, ensuring victory in medium to heavy oil. And when battlefield conditions change, the Columbia 300 Action, Action Packed and Action Max stand ready as hard-charging reinforcements. The Columbia 300 Action Attack because oil, ten pins and other teams stand in your way. It's time to Attack!

The Perfect Scale®: Helping Bowlers Make Better Decisions. Because each manufacturer uses a different method for indicating a ball's hook potential, bowlingball.com developed a way for the consumer to compare bowling balls across all manufacturers.
See what other people are saying about the Action Attack Bowling Balls by reading customer reviews