Columbia 300 Scout Hi-Flare Reactive Blue/Green/Bronze Bowling Balls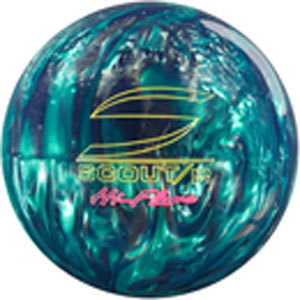 Currently Not Available
Scout Hi-Flare Reactive Blue/Green/Bronze Specs
This product (#4228) is not available.
Similar Products
Storm
Polar Ice Hybrid Black/Blue
$60.99
Perfect Scale®: 100.9
Storm
Mix Red/Silver
$69.99
Perfect Scale®: 100.9
Storm
Tropical Breeze Hybrid Black/Cherry
$82.99
Perfect Scale®: 118.5
Scout Hi-Flare Reactive, that's what all the excitement is about. By changing the position and density of the puck the Scout Reactive series has been given even more kick on the backend of the lane. The change creates a differential of 0.051. The extra differential means more flare potential down the lane, which translates into a stronger move at the pocket.

The Perfect Scale®: Helping Bowlers Make Better Decisions. Because each manufacturer uses a different method for indicating a ball's hook potential, bowlingball.com developed a way for the consumer to compare bowling balls across all manufacturers.
See what other people are saying about the Scout Hi-Flare Reactive Blue/Green/Bronze Bowling Balls by reading customer reviews