Brunswick Slingshot Silver/Black Bowling Balls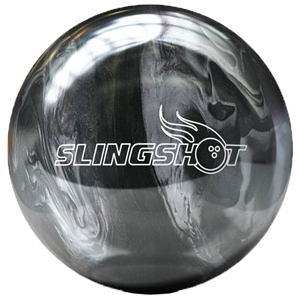 Click Below
To View



Core Image
Currently Not Available
Slingshot Silver/Black Specs
Coverstock Name:
PowrKoil 17 Reactive
Factory Finish:
High Gloss
Brunswick Product Line:
Entry-Level Performance
This product (#8150) is not available.
Similar Products
Track
300A
$92.99
Perfect Scale®: 157.5
Track
300C Solid
$93.99
Perfect Scale®: 155.44
Hammer
Spike Orange/Blue
$104.99
Perfect Scale®: 151.9
Brunswick Slingshot Silver/Black Articles
Slingshot your game to the next level!! The Brunswick Slingshot offers new color technology that enables it to achieve a brilliant swirel pattern. There is a new core wrapped with a proven coverstock that offers bowlers the hitting power of a high-performance bowling ball at a lower price.

The core inside the Brunswick Slingshot Bowling Ball is a two-piece shaped dynamic core that allows multiple drilling options and stronger hitting power than traditional three-piece pancake weight blocks.

The coverstock that wraps the core of the Brunswick Slingshot is the very well proven PowerKoil 17 Reactive coverstock.

The Black and Silver Color Combination is outstanding on this bowling ball. Check out all of the Brunswick Slingshot Bowling Ball Colors today.

The Perfect Scale®: Helping Bowlers Make Better Decisions. Because each manufacturer uses a different method for indicating a ball's hook potential, bowlingball.com developed a way for the consumer to compare bowling balls across all manufacturers.
See what other people are saying about the Slingshot Silver/Black Bowling Balls by reading customer reviews