Brunswick Evil Siege Bowling Balls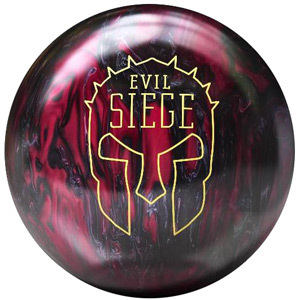 Currently Not Available
Evil Siege Specs
Coverstock Name:
Propel Pearl Coverstock
Factory Finish:
4,000 Micro pad
Core Name:
Mechanical Asymmetric Core Engineering
Mfg Part #:
60-105248-93X
Brunswick Product Line:
Pro Performance
This product (#7779) is not available.
Similar Products
Ebonite
Pursuit

$139.95
Perfect Scale®: 208.30
Ebonite
Mission X

$149.95
Perfect Scale®: 208.7
Hammer
Jigsaw Corner X-Out 15 ONLY

$114.95
Perfect Scale®: 208.5
Brunswick Evil Siege Articles
The Evil Siege is the second in our new series of Pro Performance balls and features the new MACE asymmetrical core as well as the new solid Propel Pearl coverstock. This is a strong ball that battles medium to heavy oil and responds quickly to friction for great pin action.


Core

M.A.C.E. " Mechanical Asymmetric Core Engineering. The MACE core has three major benefits, Ultra Low RG core system to engage the Propel coverstock, High RG differential to aid in traction through heavy oil and High RG asymmetric differential to quicken the response time to friction. Designed as a two component elliptical core system, the MACE core is dynamically the strongest asymmetric core ever produced for a Brunswick ball.


Coverstock

Introducing Propel Pearl coverstock the next extension in Brunswick coverstock technology. Propel Pearl is a revolutionary coverstock developed by Brunswick to improve the mid-lane and backend traction of the ball on today's slicker oils and lane surfaces. The Propel Pearl coverstock was discovered through testing of new formulation additives and process changes in coverstock manufacturing.


Ball Motion

The Evil Siege unites the new Propel Pearl coverstock and the MACE core to produce a ball motion that is both strong in the midlane and aggressive on the backend. The Siege is your ball when your game needs help battling medium to oily conditions and poor pin action.


Seize the lanes, Conquer the pins, Defeat your opponent!!



The Perfect Scale®: Helping Bowlers Make Better Decisions. Because each manufacturer uses a different method for indicating a ball's hook potential, bowlingball.com developed a way for the consumer to compare bowling balls across all manufacturers.
See what other people are saying about the Evil Siege Bowling Balls by reading customer reviews