Brunswick Diamondback Bowling Balls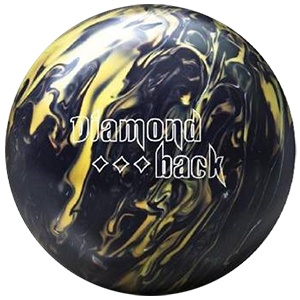 Currently Not Available
Diamondback Specs
Coverstock Name:
Activator Coverstock
Factory Finish:
2,000 Siaair Micro Pad
Mfg Part #:
60-105244-93X
Brunswick Product Line:
Advanced Performance
This product (#7587) is not available.
Similar Products
Brunswick
Melee
$119.99
Perfect Scale®: 189.3
Motiv
Venom Toxin
$113.99
Perfect Scale®: 189.9
900 Global
Eagle Pearl MEGA DEAL
$113.99
Perfect Scale®: 190.1
Strike at will with Brunswick's new Diamondback!

Coverstock
Activator Solid Coverstock: The Diamondback is the first ball with Activator Solid coverstock available at the Advanced Performance price point. The original Activator coverstock used on the Diamondback is a proven formula that provides strong downlane recovery, longevity of ball reaction, and unprecedented durability with superior resistance to cracking.


Core

Low RG Rocket Core:
The Diamondback uses the proven Brunswick multi-sided Rocket core system, providing a low RG core that when combined with the original Activator coverstock produces a ball reaction that is unmatched at the Advanced Performance price point. Clean through the front with an aggressive move at the breakpoint, the Diamondback gives amazing bang for the buck. There isn't another ball in this class that's even close.


Reaction Characteristics

Ball Motion:
With its 2,000 Siaair Micro Pad finish, the Diamondback will provide good length with a strong continuous backend reaction that matches up on medium to oily lane conditions for a wide range of bowling styles.



Reaction Setup:
The Diamondback can be drilled using the standard drilling techniques developed for symmetric bowling balls.



The Perfect Scale®: Helping Bowlers Make Better Decisions. Because each manufacturer uses a different method for indicating a ball's hook potential, bowlingball.com developed a way for the consumer to compare bowling balls across all manufacturers.
See what other people are saying about the Diamondback Bowling Balls by reading customer reviews