Brunswick Wild Card Bowling Balls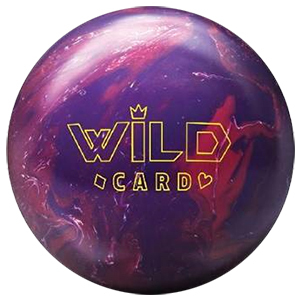 Currently Not Available
Wild Card Specs
Coverstock Name:
ConneXion Reactive
Factory Finish:
2,000 Siaair Micro Pad
Mfg Part #:
60-105246-93X
Brunswick Product Line:
High Performance
This product (#7586) is not available.
Similar Products
Track
811 C/T
$149.95
Perfect Scale®: 205.4
Ebonite
Pursuit 15 Only

$99.95
Perfect Scale®: 208.30
Hammer
Jigsaw Corner X-Out

$114.95
Perfect Scale®: 208.5
Now you can hold the Ace up your sleeve with the new Brunswick Wild Card!

Coverstock:The Wild Card utilizes ConneXion coverstock known for its unbelievable traction response from foul line to head pin. The aggressive connection of the Wild Card to the lane surface inspires confidence in the ball reaction that allows bowlers to play the lanes the way they want to.

Core:The ultra low RG Paragon core was designed with two intentions. First, lower the RG to create a faster revving core that will provide improved mid-lane traction. And second, raise the RG differential to increase the track flare potential which will generate more overall hook with standard layouts and the use of interchangeable thumb sleeves.

Reaction Characteristics

Ball Motion:With its 2,000 Siaair Micro Pad finish, the Wild Card will provide good length with a strong continuous backend reaction that matches up on medium to oily lane conditions for a wide range of bowling styles.

Reaction Setup: The Wild Card can be drilled using the standard drilling techniques developed for symmetric bowling balls.

The Perfect Scale®: Helping Bowlers Make Better Decisions. Because each manufacturer uses a different method for indicating a ball's hook potential, bowlingball.com developed a way for the consumer to compare bowling balls across all manufacturers.
See what other people are saying about the Wild Card Bowling Balls by reading customer reviews