Brunswick Python Bowling Balls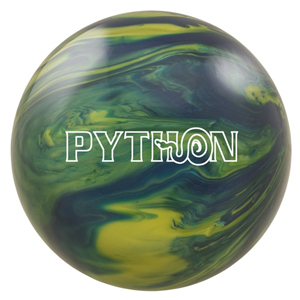 Currently Not Available
Python Specs
Coverstock Name:
EnMotion
Factory Finish:
High Gloss Polish
Core Name:
Modified Original Inferno
Brunswick Product Line:
Advanced Performance
This product (#7232) is not available.
Similar Products
Brunswick
Ringer Platinum Pearl
$99.99
Perfect Scale®: 169.9
Brunswick
Ringer
$89.99
Perfect Scale®: 171.9
Storm
Lights Out
$104.99
Perfect Scale®: 172.2
Predictable power is the best way to describe the new Python. With a more direct line of attack on the lane, a fast revving core and constricting power on the pins, the Python provides a secure ball reaction at the Advanced Performance price point. For the bowler who wants to play straighter angels with predictable power, get a Python and squeeze the life out of your opponent.



Technology

EnMotion Coverstock: The Python is the first ball with EnMotion coverstock available at the Advanced Performance price point. The Python uses a Pearlized version of the EnMotion coverstock. EnMotion combines the best elements from our PowrKoil Activator and N'Control coverstock systems.



Low RG Core: The Python core uses and updated version of the Original Inferno. However, the weight distribution between the inner core and outer core has been adjusted to raise the overall RG, so even with its aggressive EnMotion coverstock, the Python will clear the fronts, rev in the mid-lane and devour the pins with one big bite.



High Gloss Finish: The Python is finished with Brunswick's Factory Finish High Gloss Polish to maximize the skid-snap reaction out of the box. This surface preparation will allow most bowlers to match-up to freshly oiled and moderately broken down house conditions.



Reaction Characteristics


Out of the Box: With its high gloss polish surface, the Python matches up well on most house conditions.



When Dulled: The Python's hooking action will increase and its arc will become more even, creating a better match-up for medium-oily lane conditions and for smoothing over/under reactions that are sometimes encountered on wet/dry lane conditions.



Reaction Setup

The Python can be drilled using the standard drilling techniques developed for two-piece balls. Please view the drilling layouts link near the top of the page for layout details. The Python is surfaced with Brunswick's Factory Finish High Gloss Polish which increases its skid-snap characteristics. Shiny surface finishes can sometimes skid too long, resulting in reduced backend reaction and hitting power. To increase traction, roughen the surface with Brunswick's Factory Finish Rough Buff.

The Perfect Scale®: Helping Bowlers Make Better Decisions. Because each manufacturer uses a different method for indicating a ball's hook potential, bowlingball.com developed a way for the consumer to compare bowling balls across all manufacturers.
See what other people are saying about the Python Bowling Balls by reading customer reviews