Brunswick Twisted Fury Destruction Blem Bowling Balls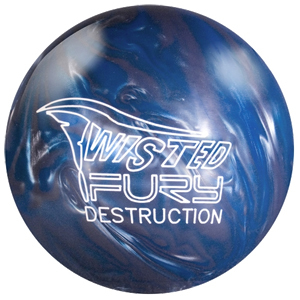 Currently Not Available
Twisted Fury Destruction Blem Specs
Coverstock Name:
XLerator coverstock
Factory Finish:
Rough Buff
Core Name:
Torsion Asymmetric Core
Color(s):
Red,Blue,Silver
This product (#7005) is not available.
Similar Products
Ebonite
Champion MEGA DEAL
$99.99
Perfect Scale®: 211.9
Storm
IQ Tour Pearl
$142.99
Perfect Scale®: 211.9
Storm
Optimus
$149.95
Perfect Scale®: 212.7
Limited Quantity!

XLerated Pin Destructing Power. The Twisted Fury Destruction introduces Brunswick's new XLERATOR coverstock, combining length you can count on with the back-end reaction you crave to provide pin destructing power.

Coverstock
The new XLerator coverstock has been formulated with two main goals in mind. First, to create length through the heads, both when they're fresh and after they've broken down. Second, to create a strong angular move at the breakpoint in order to provide increased pin-carrying ball reaction. The XLerator coverstock succeeds at achieving both of these goals, giving you unparalleled reaction with a ball that gets to the spot and returns hard to the pocket.

Core
Good coverstocks become great when paired with a core that accentuates their strengths. After testing a wide range of cores (both new and old designs) with the new XLerator coverstock, the core that gave the absolute best reaction was the Torsion Asymmetric Core. This core/coverstock combo make the Twisted Fury Destruction rev up hard and hug the lane without hooking early. The medium RG asymmetric design of the core then turns loose the power of the coverstock on the back-end, unleashing destructive force on the pins.

Reaction Characteristics


Out of the Box: With its Rough Buff finish, the Twisted Fury Destruction will provide excellent length and a strong angular back-end reaction to match up on meduim-dry to meduim-oily lane conditions for a wide range of bowling styles.

If your Twisted Fury Destruction goes too long: Dull the surface with 800-grit abrasive to get the Twisted Fury Destruction to roll sooner and increase its hooking action.

If your Twisted Fury hooks too early: Polish your Twisted Fury Destruction with Brunswick's Factory Finish High Gloss Polish to get extra length.

Blems are seconds due to a cosmetic blemish, but the specifications fall out of the 2-4" & 2-4 oz. range. There are a couple of areas that the ball would not meet some first quality manufacturing specifications (i.e. core chip or engraving error). Blems will have an X stamped by the serial number. The label on the box is stamped X-Blem.
NOTE: Due to the limited availability of Blems, X-Outs, and Seconds pin placement and top weight are not guaranteed.

The Perfect Scale®: Helping Bowlers Make Better Decisions. Because each manufacturer uses a different method for indicating a ball's hook potential, bowlingball.com developed a way for the consumer to compare bowling balls across all manufacturers.
See what other people are saying about the Twisted Fury Destruction Blem Bowling Balls by reading customer reviews