Brunswick Rattler Bowling Balls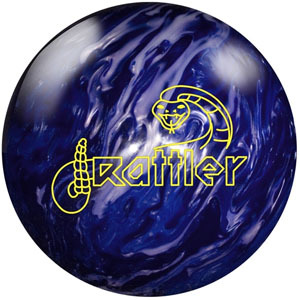 Currently Not Available
Rattler Specs
Coverstock Name:
Activator Coverstock
Factory Finish:
High Gloss
Core Name:
Multi-Sided Rocket Core System
Brunswick Product Line:
Advanced Performance
This product (#6967) is not available.
Similar Products
Radical
Grease Monkey
$104.99
Perfect Scale®: 185.9
Roto Grip
Wrecker
$99.99
Perfect Scale®: 182.8
DV8
Misfit Green/White MEGA DEAL

$73
Perfect Scale®: 182.2
The Rattler strikes, and strikes, and strikes again. With a ball reaction like a snake attacking its prey, the Rattler uncoils and drives hard and fast through the backend with a vicious attack. The Rattler provides unmatched reaction at the performance price point. Don't be caught without one in your bag.

Technology
Activator Coverstock: The Rattler is the first ball with Activator coverstock available at the performance price point. The original Activator coverstock used on the Rattler is a proven formula that provides strong downlane recovery, longevity of ball reaction, and unprecedented durability with superior resistance to cracking.

Low RG Rocket Core
The Rattler uses Brunswick Multi-Sided Rocket Core System, providing a low RG core that when combined with the original Activator produces a ball reaction that is unmatched at the performance price point. Clean through the front with an aggressive move at the breakpoint, the Rattler gives amazing bang for the buck. There isn't another ball in this class that's even close.

High Gloss Finish
The Rattler is finished with Brunswick's Factory Finish High Gloss Polish to maximize the skid-snap reaction out of the box. This surface preparation will allow most bowlers to match-up to both freshly oiled and moderately broken down house conditions.


The Perfect Scale®: Helping Bowlers Make Better Decisions. Because each manufacturer uses a different method for indicating a ball's hook potential, bowlingball.com developed a way for the consumer to compare bowling balls across all manufacturers.
See what other people are saying about the Rattler Bowling Balls by reading customer reviews