Brunswick Ambitious II - Overseas Release - bowlingball.com Exclusive Bowling Balls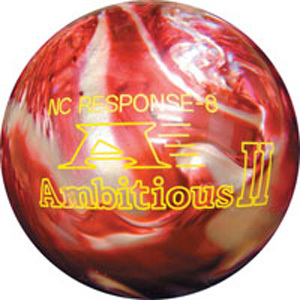 Currently Not Available
Ambitious II - Overseas Release - bowlingball.com Exclusive Specs
This product (#5867) is not available.
Similar Products
Brunswick
Melee
$129.95
Perfect Scale®: 189.3
Columbia 300
Eruption Pro
$114.95
Perfect Scale®: 189.9
Motiv
Venom Toxin
$113.99
Perfect Scale®: 189.9
The Ambitious II uses a proven hour glass shaped core to create a highly angular ball reaction. High RG core systems have been very popular with International bowlers because of their ability to delay hooking to the back part of the lane. PowerKoil Response coverstock is a new way to describe the "Response" or how fast/hard the ball will respond to friction. Together, the High RG core system and PowerKoil Response coverstock create an aggressive reactive coverstock ball that saves most of it's hooking for the back-ends. The Ambitious II will match up on medium-oily to medium-dry lane conditions.


The Perfect Scale®: Helping Bowlers Make Better Decisions. Because each manufacturer uses a different method for indicating a ball's hook potential, bowlingball.com developed a way for the consumer to compare bowling balls across all manufacturers.
See what other people are saying about the Ambitious II - Overseas Release - bowlingball.com Exclusive Bowling Balls by reading customer reviews