Brunswick BVP Sidewinder Bowling Balls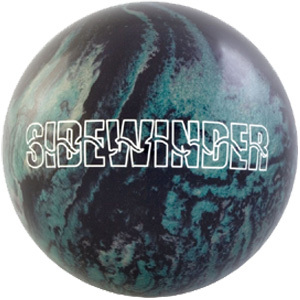 Currently Not Available
BVP Sidewinder Specs
Coverstock Name:
Low Load Particle
Factory Finish:
Rough Buff
Core Name:
Multi-Sided Rocket Core System
Color(s):
Green,White,Black
This product (#5438) is not available.
Similar Products
Brunswick
Johnny Petraglia Vintage LT-48
$109.95
Perfect Scale®: 164.5
Ebonite
Cyclone Green/Gold/Silver
$94.99
Perfect Scale®: 167.2
Brunswick
Ringer Platinum Pearl
$99.99
Perfect Scale®: 169.9
BVP "Brunswick Value Performance" Exceptional Value and Great Performance
The Brunswick BVP series has been developed to provide the widest range of reactions available at the popular mid-price point. The BVP series provides any bowler the ball performance they're looking for at a price they can afford.

Coverstock
The BVP Sidewinder features Brunswick's first Solid / Pearl Hybrid -Low Load Particle coverstock. Known for mid-lane recovery with controlled and continuous breakpoints, the Brunswick low load particle ball reaction has been a favorite for many types of bowlers on both high scoring house shot.

The Sidewinders version of the low load particle coverstock is an updated version of the same coverstock made popular by the Fuze Eliminator, Danger Zone Pro HPD and Navy Quantum. The Sidewinder version is
Solid / Pearl hybrid with a low load of traction increasing particles distributed in all colors.

Core
The Sidewinder upgrades the performance of the BVP Ambush by using Brunswick's new lower RG Rocket core system. The lower RG of the Rocket core helps the Sidewinder get into an earlier roll which helps create more mid-lane recovery on today's high viscosity oils and hard synthetic lane surfaces.

The Perfect Scale®: Helping Bowlers Make Better Decisions. Because each manufacturer uses a different method for indicating a ball's hook potential, bowlingball.com developed a way for the consumer to compare bowling balls across all manufacturers.
See what other people are saying about the BVP Sidewinder Bowling Balls by reading customer reviews