Brunswick Radical Inferno Bowling Balls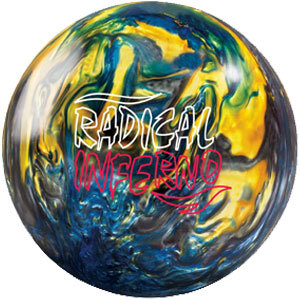 Currently Not Available
Radical Inferno Specs
This product (#4573) is not available.


Extremely Limited Quantities!

Technology:

The Radical Inferno is the first ball to take full advantage of Brunswick's new Urethane casting machine. The machine is part of a custom built "State-of-the-Art" room full of high-tech equipment that incorporates enhanced control over processing parameters. This machine includes a sensor system that monitors temperatures, pressures and flow rates at every important point in the casting process. Our new mixing head is multi-color and particle capable. This all new system allows the Brunswick R&D team the unprecedented
ability to fine tune bowling ball performance.



Octane Coverstock:

Our new Urethane casting machine has enabled Brunswick to produce a new class of Reactive coverstock.
Octane coverstock is the result of 3 years of Research and Development into both materials technology and
Urethane processing parameters. The same meticulous screening of materials that produced the Activator
coverstock family has now resulted in Octane. Improved back-end traction with a sharper breakpoint, Octane
is a perfect complement to the Activator coverstock balls known for their early revving ball reaction.



Reaction Characteristics:
The Radical Inferno is in the highly angular ball reaction class with a high traction breakpoint that is sharp,
powerful and continuous. With its high gloss polish surface the Radical Inferno gets down the lane and through the heads with ease. What is unique about the Radical is its ability the make a sharp, continuous turn to the pocket with more traction at the breakpoint. Our ball test group has commented at length about their ability to keep their speed up with the Radical Inferno, without the ball losing traction down lane in heavy oil or heavy carrydown. The Radical is the best they have ever seen in a highly polished Brunswick ball.



Utility:




Out of the Box: With its High Gloss Polish finish the Radical Inferno will match up well on medium-dry to medium-oily conditions.

When dulled: The Radical Inferno hooking action will increase and its arc will become more even, creating a better match-up for oily lane conditions and help blend the over/under reactions seen on wet/dry lane conditions.


The Perfect Scale®: Helping Bowlers Make Better Decisions. Because each manufacturer uses a different method for indicating a ball's hook potential, bowlingball.com developed a way for the consumer to compare bowling balls across all manufacturers.
See what other people are saying about the Radical Inferno Bowling Balls by reading customer reviews