Brunswick Nemesis Bowling Balls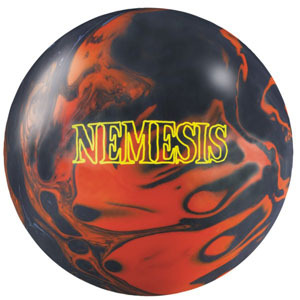 Currently Not Available
Nemesis Specs
This product (#2045) is not available.
Similar Products
Track
300A
$92.99
Perfect Scale®: 157.5
Track
300C Solid
$93.99
Perfect Scale®: 155.44
Hammer
Spike Black/Blue
$102.99
Perfect Scale®: 160.5
The universe of core/coverstock choices for bowling balls has greatly expanded in the last 12 years with the development of reactive and particle coverstocks and core system technology that can create a vast array of performance characteristics. Using these choices, Brunswick's engineers have been able to create optimum reaction match-ups for a wider range of bowlers and lane conditions that ever before.



While some core/coverstock combinations are more specialized in nature, others have an awesome versatility that has met with mainstream approval and acceptance. The BVP Nemesis targets just this type of ball reaction by employing core, coverstock and surface finish choices designed to help most bowlers match-up on typical house conditions.



Medium RG:With a RG min of 2.536 the Nemesis inverted bell core system is squarely in the mainstream range of balls like the Danger Zone and Teal Rhino Pro. More length and an Ultra Low RG ball. More able to create mid-lane recovery than a High RG ball. The Nemesis provides an optimum match-up for most bowler on typical house conditions.



Medium RG Differential: With a RG differential of 0.044 the Nemesis inverted bell core system will provide plenty of track flare for most bowlers without encountering the problems associated with over-flaring.



Aggressive Reactive coverstock:PowrKoil 18 has been on more bowling balls than any other Reactive coverstock in the bowling industry. Aggressive in the oil and strong off the dry. PowrKoil 18 is a perennial favorite among both bowlers and Brunswick's private label customers.


The Perfect Scale®: Helping Bowlers Make Better Decisions. Because each manufacturer uses a different method for indicating a ball's hook potential, bowlingball.com developed a way for the consumer to compare bowling balls across all manufacturers.
See what other people are saying about the Nemesis Bowling Balls by reading customer reviews