bowlingball.com Pirate Double Roller Deluxe Bowling Bags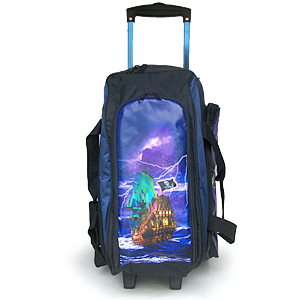 Pirate Double Roller Deluxe Specs
Color(s):
Red,Purple,Black
People Who Bought bowlingball.com Pirate Double Roller Deluxe Also Bought:
Ahoy Mate's - "Dead Men Tell No Tales".
bowlingball.com is starting to carry matching bags to our EXCLUSIVE Viz-A-Ball line. This is a KR Deluxe Double Roller with Upgraded Graphics, same 5 year warranty. We buy in bulk and pass the savings along to you. Compare with other bags in this quality range and you will find the price as high as twice the cost. Your monies worth, we guarantee it. A skull with a vivid red pirate headband, brazened gold handled swords set on a background of a ship's wheel set against a stormy sky. Black beard's ship sails eerily through perilous waters giving off a ghostly appearance. Boldly flying the Jolly Roger as they search for Treasure Island. Since pirates first set sail thousands of years ago and later roamed the Caribbean looking for buried treasure, pirates have captivated both young and old alike.
Double ball wheeled bag
5 Year Warranty
Retractable locking square handle with button release
Separate shoe compartment
4" wheels
Large side accessory pocket
Holds two pair of shoes
Other related products:
See what other people are saying about the Pirate Double Roller Deluxe Bowling Bags by reading customer reviews