Pyramid Path Double Deluxe Roller Black/Lime Green NEW ITEM Bowling Bags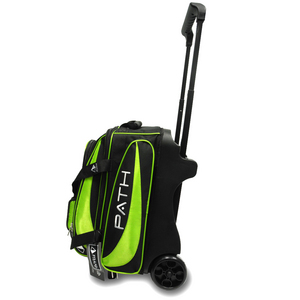 Currently Not Available
Path Double Deluxe Roller Black/Lime Green NEW ITEM Specs
This product (#10694) is not available.
Similar Products
People Who Bought Pyramid Path Double Deluxe Roller Black/Lime Green NEW ITEM Also Bought:
Pyramid Bowling is proud to introduce their new Path Deluxe Double Roller Black/Lime Green to their best selling bag line. The Path Deluxe Double Roller continues Pyramid's mission to offer the best products possible at the most affordable prices in the industry. No matter what skill level you are, the Pyramid Path line offers you quality, performance and affordable prices.

Choose Your Path!




Two ball bowling bag


Heavy duty 600-denier construction


Extra tough 5" black wheels for more stability


Square locking handle that retracts flush to base


2-ball padded foam ball holder


Extra large vented shoe compartment holds up to a US men's size 20 shoe


Large accessory compartment on the front side of bag


Easy lift handle molded into the base of the bag along with a heavy duty strap on top of bag to make getting in and out of your car easier


Dimensions (L: 23") (H: 17") (W: 13")


6 year complete warranty


Deluxe bag tag included


See what other people are saying about the Path Double Deluxe Roller Black/Lime Green NEW ITEM Bowling Bags by reading customer reviews