Ebonite Powerhouse Particle Polish 32 oz Bowling Accessories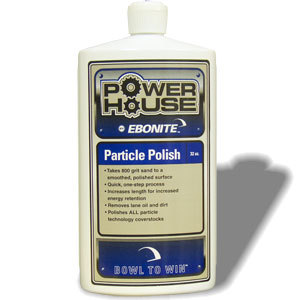 Currently Not Available
Powerhouse Particle Polish 32 oz Specs
Accessory Type:
Cleaners and Polish
This product (#5720) is not available.
Similar Products
Brunswick
Wax & Buff Towel

$19.99
High-tech particles that just don't want to be polished easily have met their match.

BALL CLEANING A soldier takes care of his gun. A home run hitter takes care of his bat. Shouldn't you take care of your weapon? The interaction between your ball's surface and the lane surface is the single most important variable involved in your quest to the winner's circle. Ebonite has developed the most effective, easiest- to-use products on the market because we want you to be the champion. All of our cleaners, towels, and scrubs are approved for USBC use during competition. When it matters most.



The fastest, most effective particle polish on the market.


Takes 800-grit sand to a smoothed, polished surface


Quick, one-step process


Increases length for increased energy retention


Removes lane oil and dirt


Polishes ALL particle technology coverstocks, regardless of manufacturer


See what other people are saying about the Powerhouse Particle Polish 32 oz Bowling Accessories by reading customer reviews