Brunswick Sawtooth (H5) Replacement Heel Bowling Accessories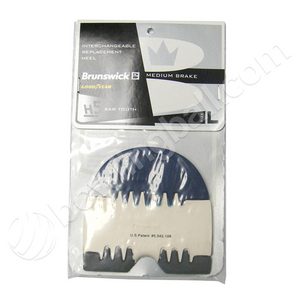 Sawtooth (H5) Replacement Heel Specs
Accessory Type:
Shoe Accessories
Shoe Accessory Type:
Replacement Heels
Color(s):
Blue,White,Grey
People Who Bought Brunswick Sawtooth (H5) Replacement Heel Also Bought:
Break In Your Soles and Heels
Break in your soles and heels right out of the box by firmly rubbing the shoe back and forth for 30 seconds in a non-traffic area, such as the floor or under the ball return. This will smooth the raw fibers and shorten the time you spend determining your ideal combination.

Sawtooth H5: Brake (Standard)

Bowler profile: For any player who needs average brake.
This rubber heel is made of a special Dexter rubber blend which has slip coefficient added to the rubber and a smooth finish for even braking control. the Sawtooth feature blends the three different rubber textures better for a smoother transition Recommended for normal approach conditions.
CUT TO FIT
Small: Women's 5-12 and Men's 6.5-9


Large: Men's 9.5-15
See what other people are saying about the Sawtooth (H5) Replacement Heel Bowling Accessories by reading customer reviews