Brunswick Blitz Shoe Covers Skulls Bowling Accessories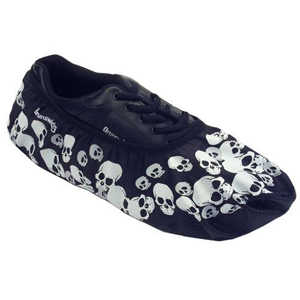 Currently Not Available
Blitz Shoe Covers Skulls Specs
Accessory Type:
Shoe Accessories
Shoe Accessory Type:
Shoe Covers
This product (#8315) is not available.
Similar Products
Master
Tru-Slide

$13.99
Brunswick Blitz Shoe Covers
Blitz protects bowling shoes from the offensive elements, inside and outside of the bowling center and do it with an attitude
Blitz shoe covers protect the soles of bowling shoes from moisture, gum, food, etc
Easy to slip on over shoes and stores easily inside a bowling bag
Men's Traditional Width
Small:
---
Med:
to size 7
Large:
7.5 - 9.5
X-Large:
10 - 12
XX-Large:
12+

Women's Traditional Width
Small:
to size 5.5
Med:
6 - 8.5
Large:
9+
Sizing based on basic style shoes. SST 8 and Brunspro shoes tend to run slightly longer and wider than most basic shoes.
See what other people are saying about the Blitz Shoe Covers Skulls Bowling Accessories by reading customer reviews