Layout 1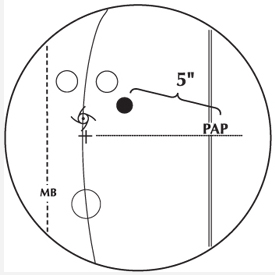 Locate the mass bias by drawing a line from the pin through the CG. Find the location 6-¾" from the pin along this line, and mark it with "MB". This is the location of the mass bias or the secondary pin.
Place the major pin 5" from the player's PAP and place the "MB" on the player's ball track next to the thumb hole
Use this layout for length with a medium backend reaction.
This layout is great for medium to light oil. Also works well for players with higher rev rates.