Use and distribution of this article is subject to our
terms and conditions
whereby bowlingball.com's information and copyright must be included.
A Touching Story From Our Week 41 OTB Contest Winner Tom Kruel!
Congrats to our Week 41 OTB Contest Winner - Tom Kruel of Flanders, NY!
Sometimes things happen when you least expect it. We were extremely touched by the e-mail we received from Tom when he found out he won this week's OTB ball. We couldn't be happier than to have chosen Mr. Kruel this week! Here is his original e-mail:

I apologize for not getting back to you earlier, I did not have access to a computer during the day yesterday. My wife had a thoracic surgical procedure at a Hospital 75 miles from our home, She is doing Great after 5 hours in the recovery room and will be back home soon.
I would like the OTB Air Force Ball in 16 lbs.
Attached is a Photo of My Son Justin and I during a recent night of Extreme Bowling at our local house - "Wildwood Lanes"
(A little history, and the reason for choosing the "Air Force" Model...My Son Justin went into the Air force, at age 18, a week before the 911 tragedy. He is currently a Staff Sergeant and is Stationed in California. He has been deployed to the Middle East 6 times in the past 9 years including parts of Afghanistan, Iraq, including Baghdad , and recently Kuwait. He hasn't been home in a long while and visited us last month for the first time in 2 1/2 years. We spent some of that time Bowling on the weekends. It was nice having him back home. The picture is from one of those Extreme Bowling Nights together.)
Thank You again for your generosity and your Awesome Site "BOWLINGBALL.COM"!
Tom Kruel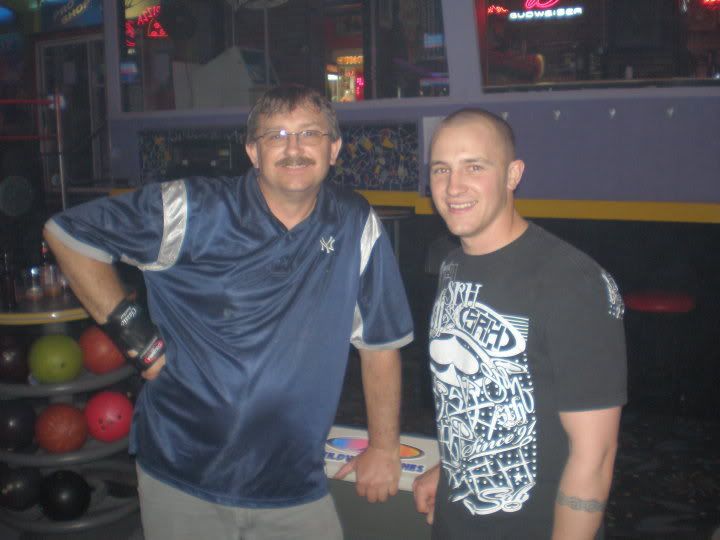 Thank you Justin for your service and thank you Tom for the e-mail! Enjoy your OTB Air Force ball!
Enter for your chance to win this week's ball!