Go to Lane #1 Pearl Panther »
Only show reviews for Lane #1 Pearl Panther
| | | |
| --- | --- | --- |
| I Love It | | 83% (5 of 6) |
| I Like It | | 17% (1 of 6) |
| It's Ok | | 0% ( of 6) |
| I Don't Like It | | 0% ( of 6) |
| I Hate It | | 0% ( of 6) |
Lane #1 Pearl Panther

Reviewed By: bowlingball.com reviews by

Tony Ruocco

12/16/2011 11:16 ( stars)



About the Bowler
Bowling Hand
Right Handed
Experience
Advanced (I have bowled in a league)
League Average
225
Ball Speed
Medium
Style
Cranker
PAP
5 1/8" over 1/8" up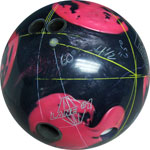 Click to Enlarge



Within the darkness of destruction, rose the beast of annihilation.


Pin to PAP(5 1/8" over 1/8" up) - 4 1/2"
Dual Angle Layout - 60* x 4 1/2" x 65*
Balance Hole - 1" x 3" P3

Surface Preparation - Out of Box (2x Compound)

What I Was Looking For In This Ball Layout:
I was a huge fan of the original Pink Panther. I did decide to go a little stronger on the Pearl Panther to see what it could do. I expected to see more skid with a stronger movement off the breakpoint then in the original Pink Panther.

The layout I used should also help the ball get into a strong roll in the mid-lane setting up a strong motion on the backend.

What I Ended Up With in the Ball and Layout:
I rally go exactly what I thought I would out of this ball. I will say my initial thoughts after just a few shots was how strong this ball was in the mid section of the lane for a pearlized ball.

Right out of the gate it was really reading the friction in the mid-lane but it kept a really strong motion on the backend and through the pin deck. The Pearl Panther cleared the front part of the lanes with ease every time never reading any friction in the heads. As I said earlier the transition in the mid-lane was really strong and a few times I did not give it enough room to set up. Overall the ball motion was as expected and very strong.

This is a great compliment to the original Pink Panther and should give you a very nice alternate look with similar motions.
Lane #1 Pearl Panther

Reviewed By:

Ormond pro shop manager

12/22/2011 15:17 ( stars)



About the Bowler
Bowling Hand
Right Handed
League Average
220
Ball Speed
Fast
Style
Tweener
Lane #1 Pearl Panther is the new release in the Panther series. The pearl cover stock gives you a clean roll in the front. The backend reaction is strong you will be able to read the midlane so that you will be able to control the break point.

Ormond Pro Shop Manager
ormond@bowlingball.com
Other Products Reviewed by Ormond pro shop manager
Lane #1 Pearl Panther

Reviewed By:

Bill-G

12/08/2011 20:08 ( stars)



I have a 210 composite average in two leagues. I have rather slow ball spead with medium revs. I purchased this ball because I wanted one that would go long and finish strong. After the ball was drilled I rolled it with the out of the box surface, the reaction was much stronger than I wanted. After using 3000 abralon and a little polish to adjust the surface, I rolled a 300 game with every shot high flush. The ball reaction was very consistent and very strong. I am very much looking forward to using it in the leagues next week!
Other Products Reviewed by Bill-G
Lane #1 Pearl Panther

Reviewed By:

richardhuryn

12/06/2011 16:00 ( stars)



About the Bowler:

Rich Huryn
League Ave: 230
Cranker
High Ball Speed

The Lane #1 Pearl Panther is a great ball if you're looking for something to get down the lane for you. The pearl coverstock allows for excellent length, while still giving the bowler that hard snap off the backend/dry area of the lane. Couple that with Lane #1's pattented diamond core that has unmatched hitting power...and you've got another awesome ball.

For me, this ball will be great on Sport or PBAX patterns...or...tournament shots (multi-game qualifiers) when the lanes really start to get fried.

This ball, coupled with the Pink and Black Panthers, or, Lane #1's newest balls (Maxxx Curve and BuzzBomb Carnage)...is an excellent addition to your arsenal and fills a spot in your ball lineup that you might be missing.
Other Products Reviewed by richardhuryn
Lane #1 Pearl Panther

Reviewed By:

Bowler851

12/02/2011 08:25 ( stars)



About the Bowler
Bowling Hand
Left Handed
Experience
Advanced (I have bowled in a league)
League Average
215
Ball Speed
Medium
Style
Stroker
PAP
5 1/4
Drilling 4x4x2 pin ended up right next to ring finger.
before I start my review I would like to share with you that the perfect scale on this ball is wrong (213.9). I have a victory Road drilled 5x3 with pin above fingers (perfect scale 185.5) that will out hook this ball by 3 boards and keep in mind the VR has over 50 games on it. So if the VR has a PS of 185.5 then the Pearl Panther should be rated around 150. So do not buy this ball if you like to cover a lot of boards. O.K. now to the review.

I went with the 4x4x2 layout so I would have a step up from my Victory Road in that it would read the mids better. That is not what I got, had to start the ball in the dry to get it to read at all. I ended up playing 8 board at the arrows with at most a 1 or 2 board swing. I have not been able to play a shot like this since reactive resin was introduced. In contrast stood 3 boards right (left handed) playing just inside 2nd arrow (so to not get it in the dry to soon) with the Victory Road. So by now probably wandering why 4 stars. Well I said it didn't hook but it I never said it didn't hit or perform.
I would rate the hook-5, hit and carry-9.5. After throwing this ball I wounder what the SOS looks like going down the lane. So to rap this review up it was not what I expected it to be, but any ball that can mow down pins like this ball (after I got lined up) will find a place in my bag just not above the Victory Road but below it.

Overall if you don't mind playing the dirt you will love this ball, If you love to cover a lot of board you will hate it.

Other Products Reviewed by Bowler851
Lane #1 Pearl Panther

Reviewed By:

BigCurve RJ

11/15/2011 17:00 ( stars)



About the Bowler
Bowling Hand
Right Handed
Experience
Advanced (I have bowled in a league)
League Average
222
Sport Shot Average
190
Ball Speed
Medium
Style
Cranker
Drilled 48 X 6 1/8 X 48

The Pearl Panther is one of the smoothest reacting pearl reactive bowling balls I have ever thrown. The Pearl Panther has a controllable skid/snap reaction and goes about 3 feet longer than the original Lane #1 Pink Panther, but more angular. It is a great ball for medium to heavy oil patterns. Pearl Panther is very versatile and allows the bowler to play many different angles to the pocket. Overall very similar ball motion to the Pink Panther except it reads friction later and more angular on the backend, resulting in excellent pin carry.
Other Products Reviewed by BigCurve RJ