Go to DV8 Marauder »
Only show reviews for DV8 Marauder
| | | |
| --- | --- | --- |
| I Love It | | 85% (11 of 13) |
| I Like It | | 8% (1 of 13) |
| It's Ok | | 8% (1 of 13) |
| I Don't Like It | | 0% ( of 13) |
| I Hate It | | 0% ( of 13) |
DV8 Marauder

Reviewed By: bowlingball.com reviews by

Tony Ruocco

07/20/2012 15:14 ( stars)

1 of 1 people found this review helpful.



About the Bowler
Bowling Hand
Right Handed
Experience
Advanced (I have bowled in a league)
League Average
225
Ball Speed
Medium
Style
Cranker
PAP
5 1/8" over 1/8" up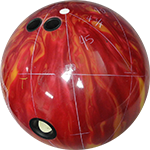 Click to Enlarge


The DV8 Marauder is out for blood and to raid the lanes of all its high scores!

Pin to PAP(5 1/8" over 1/8" up) - 4 3/4"
Dual Angle Layout - 45* x 4 3/4" x 40*
Balance Hole - n/a

Surface Preparation - Out of Box (500 Siaair Micro Pad; Rough Buff; High Gloss)

What I Was Looking For In This Ball Layout:
Based on what we were being told by DV8 we knew this was meant to be a benchmark ball in their product line. I kept the layout identical to the Hell Raiser Terror we were testing on the night. I was expecting to see a very solid down and in ball motion from the Marauder with similar characteristics of the Terror but less overall.


What I Ended Up With in the Ball and Layout:
I would agree that the Marauder offers a benchmark type of ball motion. This ball is easy to read with its Red Pearl/Yellow Solid cover and would be easy to adjust up or down from it.

Compared to the Hell Raiser Terror this ball rolled similar but obviously weaker in overall hook. The Maruader cleared the heads smooth never reading friction too early. It transitioned very nicely into a strong mid-lane roll with a sharp backend. I was able to move a little further right and open up the lane a bit while increasing carry at the same time.

Compared to the balls previously released at this price point, The Reckless and Too Reckless, I think you will just enough of a difference in ball motion to be very happy with the new addition to DV8's line up.