Go to Brunswick C (System) maxxed-out »
Only show reviews for Brunswick C (System) maxxed-out
| | | |
| --- | --- | --- |
| I Love It | | 93% (14 of 15) |
| I Like It | | 7% (1 of 15) |
| It's Ok | | 0% ( of 15) |
| I Don't Like It | | 0% ( of 15) |
| I Hate It | | 0% ( of 15) |
Brunswick C (System) maxxed-out

Reviewed By: bowlingball.com reviews by

Dustin S

07/19/2012 14:07 ( stars)

19 of 27 people found this review helpful.



About the Bowler
Bowling Hand
Right Handed
League Average
215
Style
Cranker
PAP
5 1/2 x 1/2 down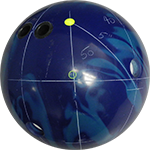 Click to Enlarge


Pin to PAP(6 3/16" over 1/2" down) - 5"
Dual Angle Layout - 50 x 5 x 40"

Surface Preparation - Out of Box

What I Was Looking For In This Ball Layout:
I was expecting a fairly strong, even rolling bowling ball. Something a bit of a step up from the versa-max, but a similar reaction.

What I Ended Up With in the Ball and Layout:
I couldn't believe the reaction I got with this ball! This ball had great length for a matte finished ball and was so strong on the backend! It was like a hockey stick. The carry was phenomenal as well because I was able to create the correct angle into the pocket.

I wasn't expecting a whole lot out of this ball, but I got one of the best bowling balls I've put my hands on in my life! If you want something for longer patterns or a strong ball for your THS league, don't pass this ball up!