Go to Brunswick C (System) maxxed-out »
Only show reviews for Brunswick C (System) maxxed-out
| | | |
| --- | --- | --- |
| I Love It | | 93% (14 of 15) |
| I Like It | | 7% (1 of 15) |
| It's Ok | | 0% ( of 15) |
| I Don't Like It | | 0% ( of 15) |
| I Hate It | | 0% ( of 15) |
Brunswick C (System) maxxed-out

Reviewed By: bowlingball.com reviews by

Tony Ruocco

07/19/2012 12:31 ( stars)

177 of 181 people found this review helpful.



About the Bowler
Bowling Hand
Right Handed
Experience
Advanced (I have bowled in a league)
League Average
225
Ball Speed
Medium
Style
Cranker
PAP
5 1/8" over 1/8" up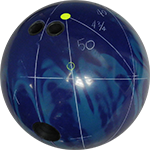 Click to Enlarge


Brunswick C.(System) maxxed-out - The Chemistry's Amazing.

Pin to PAP(5 1/8" over 1/8" up) - 4 3/4"
Dual Angle Layout - 50* x 4 3/4" x 40*
Balance Hole - n/a

Surface Preparation - Out of Box (500, 2000 & 4000 Siaair Micro Pad)

What I Was Looking For In This Ball Layout:
The introduction of the C System Maxxed-Out offered us a earlier rolling, smoother ball motion the last C System. While the Versa-Max provided a skid/snap motion while still giving us plenty of control, the Maxxed-Out should start up sooner and smooth out the movement down lane.

The layout we used on this ball should highlight the intended ball motion and really let us see what this ball can do on a typical house pattern.

What I Ended Up With in the Ball and Layout:
On our typical house pattern the Maxxed-Out allowed me to play much further right opening up the pocket a little more for me and allowing me to carry much better. The smooth Siaair finish allowed the ball to roll up a little sooner then if it were polished and really smoothed out the overall motion of the ball.

I can see where this ball would fit in perfect for transition games when the lanes get a little tricky and you just want something to roll smooth and hit hard.
The C System Maxxed-Out offers a great compliment to Versa-Max and I think most league bowlers and tournament bowlers alike will like the look this ball will give them.