Go to Storm Fire Road »
Only show reviews for Storm Fire Road
| | | |
| --- | --- | --- |
| I Love It | | 100% (14 of 14) |
| I Like It | | 0% ( of 14) |
| It's Ok | | 0% ( of 14) |
| I Don't Like It | | 0% ( of 14) |
| I Hate It | | 0% ( of 14) |
Storm Fire Road

Reviewed By: bowlingball.com reviews by

Tony Ruocco

06/22/2012 07:55 ( stars)

4 of 4 people found this review helpful.



About the Bowler
Bowling Hand
Right Handed
Experience
Advanced (I have bowled in a league)
League Average
225
Ball Speed
Medium
Style
Cranker
PAP
5 1/8" over 1/8" up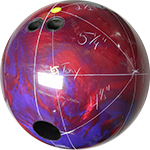 Click to Enlarge


Following in the footsteps of such great balls as the Hy-Road, T-Road Solid, Fired Up, Black Thunder and Fire Storm, the Fire Road is sure to scorch the competition!

Pin to PAP(5 1/8" over 1/8" up) - 5 1/4"
PSA Layout - 5 1/4" x 4 1/2" x 2 1/2"
Balance Hole - n/a

Surface Preparation - Out of Box (1500 grit Polished)

What I Was Looking For In This Ball Layout:
I was personally very excited about throwing this ball. The series this ball falls in for Storm is by far my all time favorite ball motions. We are talking about Hy-Road, Fired Up, T Road, this ball had a lot to live up to and I felt it would.

Right out of the box it looks great and I kept the layout pretty straight forward on it. Pin over my ring finger and cg just kicked off my grip. I was expecting to see skid - left hand turn. Based the previous few releases to this ball, example Crossroad, it seemed appropriate for Storm to raise the bar again and make a ball that read the pattern a little stronger and flipped harder.

What I Ended Up With in the Ball and Layout:
Watch the video and you will see that I love this ball. I had the entire lane with the Fire Road. I felt like I had all of the best balls that I ever threw
from this performance series wrapped up in one ball. This was one of those balls that I felt like I could not miss with and I did not care how far left I moved.

It got down the lane and seemed to recover from any angle I threw at it. Never once did I see the ball read to friction early or stand up. I was literally trying to throw this ball too far right with too much angle by the end of the night and I could not stop it from recovering.

This performance level of ball matches up so well I could see where this could be the hit that Storm has been looking for since the Hy-Road introduction. If you have loved these balls like I have then you have to get your hands on a Fire Road.