Go to Roto Grip Defiant Edge »
Only show reviews for Roto Grip Defiant Edge
| | | |
| --- | --- | --- |
| I Love It | | 75% (24 of 32) |
| I Like It | | 25% (8 of 32) |
| It's Ok | | 0% ( of 32) |
| I Don't Like It | | 0% ( of 32) |
| I Hate It | | 0% ( of 32) |
Roto Grip Defiant Edge

Reviewed By: bowlingball.com reviews by

Tony Ruocco

06/22/2012 07:46 ( stars)

2 of 2 people found this review helpful.



About the Bowler
Bowling Hand
Right Handed
Experience
Advanced (I have bowled in a league)
League Average
225
Ball Speed
Medium
Style
Cranker
PAP
5 1/8" over 1/8" up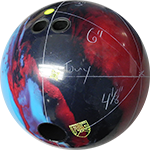 Click to Enlarge


Get a clear cut lead on your competition with the Roto Grip Defiant Edge bowling ball!

Pin to PAP(5 1/8" over 1/8" up) - 6"
PSA Layout - 6" x 4 1/8" x 3"
Balance Hole - n/a

Surface Preparation - Out of Box (1500 grit Polished)

What I Was Looking For In This Ball Layout:
The Defiant Edge is Roto Grips answer to a pearlized Defiant. The ball motion was going to be pretty straight forward in that we expected to see really good length with a strong angular movement down lane. I used a further pin to PAP to create a little more skid and kept the mass in a strong position to create a angular move off the point.


What I Ended Up With in the Ball and Layout:
Everyone will really like this ball. It has been a while since we have seen a pearlized High Performance ball from Roto Grip. The last really good one I can remember was the Mutant Cell Pearl and this reminds me of that but better.

It takes all the aspects of the Defiant and allowed me to move further right and get more skid snap, opening up the backends and getting through the pins really strong. Even on the fresh oil the Defiant Edge offered a really strong look and great pin carry.

Roto Grip has a great line-up coming this season led, in my opinion by the Defiant Edge.