Go to Roto Grip Defiant Edge »
Only show reviews for Roto Grip Defiant Edge
| | | |
| --- | --- | --- |
| I Love It | | 75% (24 of 32) |
| I Like It | | 25% (8 of 32) |
| It's Ok | | 0% ( of 32) |
| I Don't Like It | | 0% ( of 32) |
| I Hate It | | 0% ( of 32) |
Roto Grip Defiant Edge

Reviewed By: bowlingball.com reviews by

Dustin S

06/18/2012 15:15 ( stars)

1 of 1 people found this review helpful.



About the Bowler
Bowling Hand
Right Handed
League Average
215
Style
Cranker
PAP
5 1/2 x 1/2 down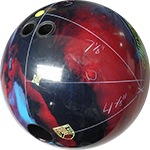 Click to Enlarge


Pin to PAP(6 3/16" over 1/2" down) - 7 1/8"
PSA Layout - 7 1/8 x 4 3/8 x 3"
Balance Hole - n/a

Surface Preparation - Out of Box (1500 Grit Polished)

What I Was Looking For In This Ball Layout:

I absolutely loved the Defiant. I was expecting the Defiant Edge to be the perfect compliment for when the Defiant starts to read too early. I was hoping to see a strong backend reaction with the amazing carry the Paragon core is known for.

What I Ended Up With in the Ball and Layout:

I saw exactly what I expected to see. When a company like Roto Grip gets into a groove, it's easy to predict what a ball will do because everything they make is great. They know what works and their design team is the best in the business. This will be a great compliment to the Defiant.

With the layout I chose I saw a bit too much length for my liking. When I drill another one, I will be sure to use a stronger layout. This isn't due to anything other than me choosing too weak of a layout. I also think that changing the surface to 4000 matte like the Critical Theory would be amazing on this ball. All in all, the Edge is going to be another big hit for Roto Grip. Learn from my mistake and drill the ball with a layout that plays to the strengths of the ball. Drill it strong and watch it fly!