Go to Brunswick Massive Damage »
Only show reviews for Brunswick Massive Damage
| | | |
| --- | --- | --- |
| I Love It | | 90% (9 of 10) |
| I Like It | | 10% (1 of 10) |
| It's Ok | | 0% ( of 10) |
| I Don't Like It | | 0% ( of 10) |
| I Hate It | | 0% ( of 10) |
Brunswick Massive Damage

Reviewed By: bowlingball.com reviews by

John Congdon

07/15/2011 08:29 ( stars)



About the Bowler
Bowling Hand
Right Handed
League Average
195
Ball Speed
Medium
Style
Stroker
PAP
4 1/2 over, 0 up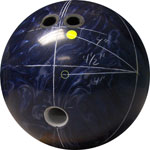 Click to Enlarge

Pin to PAP(4 1/2" over 0" up) - 4"
Mass Bias Position - N/A
Layout - 4" x 4"
Balance Hole - N/A

Surface Preparation - Out of Box (500 Siaair Micro Pad; Rough Buff)

The Brunswick Massive Damage does what it says, inflicts massive damage on the pins. This bowling ball starts its move to the pocket a little earlier than the Brunswick C (System) ulti-max making it a great addition to your arsenal.

I like having different options when trying to reach the pocket. This look was a little straighter for me, but with a ton of action. It got into its roll and just kept on trucking through the pin deck.

Brunswick is on a winning streak with their newest equipment. Check them all out for the upcoming season. Brunswick C (System) ulti-max, Brunswick Lethal Revolver, and the Brunswick Massive Damage.