Go to Roto Grip Outlaw »
Only show reviews for Roto Grip Outlaw
| | | |
| --- | --- | --- |
| I Love It | | 85% (17 of 20) |
| I Like It | | 15% (3 of 20) |
| It's Ok | | 0% ( of 20) |
| I Don't Like It | | 0% ( of 20) |
| I Hate It | | 0% ( of 20) |
Roto Grip Outlaw

Reviewed By: bowlingball.com reviews by

John Congdon

06/24/2011 09:48 ( stars)



About the Bowler
Bowling Hand
Right Handed
League Average
195
Ball Speed
Medium
Style
Stroker
PAP
4 1/2 over, 0 up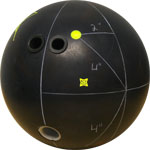 Click to Enlarge


Pin to PAP(4 1/2" over 0" up) - 4"
Mass Bias Position - 4" from PAP
PSA Layout - 4" x 4" x 2"
Balance Hole - n/a

Surface Preparation - Out of Box (2000-grit Abralon)

The Roto Grip Outlaw is the big brother of the Roto Grip Bandit.

The duller coverstock of the Outlaw makes it start to roll sooner than the Bandit. This one will definitely need some oil under it, but will also help you open up the lanes. This bowling ball definitely out hooks the Bandit, and I see them being great partners in your bowling arsenal.

This isn't a case of should I get one over the other. They just compliment each other very well.