Go to Roto Grip Bandit »
Only show reviews for Roto Grip Bandit
| | | |
| --- | --- | --- |
| I Love It | | 91% (20 of 22) |
| I Like It | | 9% (2 of 22) |
| It's Ok | | 0% ( of 22) |
| I Don't Like It | | 0% ( of 22) |
| I Hate It | | 0% ( of 22) |
Roto Grip Bandit

Reviewed By: bowlingball.com reviews by

John Congdon

06/24/2011 09:35 ( stars)

1 of 1 people found this review helpful.



About the Bowler
Bowling Hand
Right Handed
League Average
195
Ball Speed
Medium
Style
Stroker
PAP
4 1/2 over, 0 up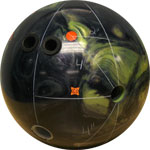 Click to Enlarge


Pin to PAP(4 1/2" over 0" up) - 4"
Mass Bias Position - 4" from PAP
PSA Layout - 4" x 4" x 2"
Balance Hole - 3/4" x 1" on PAP

Surface Preparation - Out of Box (1500-grit Polished)

The Roto Grip Bandit was an unknown entity for me. I hadn't heard of it until I showed up to shoot the video. I had no clue what to expect.

It only took a couple of shots to get lined up with this bowling ball, and then I was golden. I absolutely loved this smooth ball motion.

It's not a great big hook bowling ball, but it is very predictable and smooth. We have said quite a few times on Talk Bowling that you can strike more easily when you are further right. But most people like to see a big arc out of their bowling equipment.

The Bandit is going to find a nice new home in my bowling bag for this upcoming season.