Go to Storm Victory Road Solid »
Only show reviews for Storm Victory Road Solid
| | | |
| --- | --- | --- |
| I Love It | | 84% (16 of 19) |
| I Like It | | 16% (3 of 19) |
| It's Ok | | 0% ( of 19) |
| I Don't Like It | | 0% ( of 19) |
| I Hate It | | 0% ( of 19) |
Storm Victory Road Solid

Reviewed By: bowlingball.com reviews by

Tony Ruocco

06/24/2011 07:50 ( stars)

322 of 326 people found this review helpful.



About the Bowler
Bowling Hand
Right Handed
League Average
215
Ball Speed
Medium
Style
Tweener
PAP
5 1/8 right 1/8 up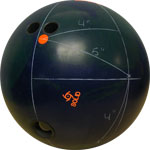 Click to Enlarge

Looking for more traction in the midlane and an earlier breakpoint, the Victory Road Solid is for you.

Pin to PAP(5 1/8" over 1/8" up) - 5"
Mass Bias Position - 4" from PAP
PSA Layout - 5" x 4" x 4"
Balance Hole - n/a


Surface Preparation - Out of Box (3000 Grit Abralon)

What I Was Looking For In This Ball Layout:
So it is no secret that I am a big fan of the Victory Road. That ball for me was so strong off the break point and I love it on so many different kinds of conditions. Like anyone else that has thrown that ball, it does not work the best on really fresh oil or when there are higher volumes of oil. The Victory Road Solid should take care of this issue.

I used a pretty simple 5"x4"x4" layout on this ball so that we could really see what it was capable of. I expected this layout to allow me to control the break point and shape with subtle hand position changes. Either way that fact that this is a Victory Road with a strong dull coverstock makes me think that this will be good.


What I Ended Up With in the Ball and Layout:
Exactly what I expected. The Victory Road Solid offered me all of the same great parts I loved about the original but in a cover that allowed to me play in the heavier oil.

Off my hand the Victory Road Solid looked as strong as any high performance ball with its 3000 grit Abralon cover the ball cut through the oil and got
into a really good position in the middle part of the lane. The nice thing about this dull version was that it did not lose all of its energy by the
backend. I was still getting plenty of ball motion off the break point and the ball hit like a truck.

All in all another really good ball release in this awesome series of balls from Storm.