Go to Linds Easy Flip »
Only show reviews for Linds Easy Flip
| | | |
| --- | --- | --- |
| I Love It | | 85% (11 of 13) |
| I Like It | | 15% (2 of 13) |
| It's Ok | | 0% ( of 13) |
| I Don't Like It | | 0% ( of 13) |
| I Hate It | | 0% ( of 13) |
Linds Easy Flip

Reviewed By: bowlingball.com reviews by

Tony Ruocco

01/28/2011 10:27 ( stars)

54 of 55 people found this review helpful.



About the Bowler
Bowling Hand
Right Handed
League Average
215
Ball Speed
Medium
Style
Tweener
PAP
5 1/8 right 1/8 up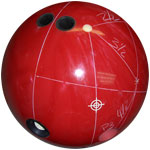 Click to Enlarge


Pin to PAP(5 1/8" over 1/8" up) - 4"
Mass Bias Position - n/a
Balance Hole - P3
PSA Layout - 4" x 4" x 2 1/2"

Surface Preparation - Out of Box (polished)

What I Was Looking For In This Ball Layout:
We really did not have any idea of what we getting into when we did the initial testing on this ball. We knew it was a symmetrical core in a reactive coverstock. That gave us some idea that it should be long and strong. Since we wanted to see what this ball could do we went fairly aggressive and used a 4" x 4" layout with a 2 1/2" pin buffer and used a strong P3 weight hole.

This should create good distance with a strong angular motion at the breakpoint.

What I Ended Up With in the Ball and Layout:
We have never thrown a Linds product before and I was really impressed by performance I got right off the bat.

The Easy Flip got down lane with no problem, even as the night went on and more games were thrown on the test lanes the ball did not read the friction early. We saw a good amount of strength in the mid-lane but I am pretty some of that was generated by the layout. I think with a less aggressive layout the ball would have created more length.

The match up of layout and condition was perfect for me. The symmetrical core allowed me to stay in the track area and get that classic reactive coverstock ball motion. With some minor tweaks I was even able to get into the heavier oil and create a good amount of movement from a deeper angle.

Overall I think the Easy Flip in this exclusive color to bowlingball.com will match up well on medium to medium-heavy conditions and will work well for a variety of bowler styles. I see this being a good benchmark ball for most players to gauge lanes off of as well. Reactive symmetrical balls are great for this because they tend to be more versatile on a variety of conditions.