Go to Storm Reign Supreme »
Only show reviews for Storm Reign Supreme
| | | |
| --- | --- | --- |
| I Love It | | 87% (26 of 30) |
| I Like It | | 10% (3 of 30) |
| It's Ok | | 3% (1 of 30) |
| I Don't Like It | | 0% ( of 30) |
| I Hate It | | 0% ( of 30) |
Storm Reign Supreme

Reviewed By: bowlingball.com reviews by

Tony Ruocco

10/12/2010 07:35 ( stars)

3 of 3 people found this review helpful.



About the Bowler
Bowling Hand
Right Handed
League Average
215
Ball Speed
Medium
Style
Tweener
PAP
5 1/8 right 1/8 up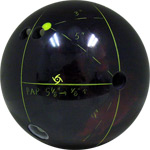 Mass Bias Position - 4" from PAP
Balance Hole - 27/32" x 2" on PAP
Pin Buffer - 3"
PSA Drilling Layout - 5" x 4" x 3"

Surface Preparation - Out of Box (1500 grit Polish)

What I Was Looking For In This Ball Layout:
The Reign Supreme looks like it will be another staple in Storm's performance series of balls. At first glance I say this is the ball that is set up to replace the Hy-Road eventually. Featuring the C.A.M. core from the Reign
series of balls with the R2S Hybrid Reactive cover from the Hy-Road, I am looking forward to this ball motion.

I decided to use a fairly common layout on this ball but a different layout then any of the Hy-Roads I threw. I think this combination will work out really well for me since I loved the Hy-Road but also had pretty good luck with the C.A.M. core.


What I Ended Up With in the Ball and Layout:
I ended up with a great benchmark ball. This ball was strong but smooth and seemed to handle everything I tried to do with it. As expected with the core/coverstock combination the ball was very predictable and rolled really consistent.

In my opinion all of our testers got a really good ball motion from this ball. The Reign Supreme handled the heads as well as anything we have thrown lately. It never really read the friction to early and even when they were fresh it created enough to get the ball into a good spot through the transition.

Off the middle part of the lane into the backend the Reign Supreme stayed smooth but strong with great continuation through the pin deck. All in all another really solid ball motion from Storm and in my opinion a good replacement for the very popular Hy-Road.