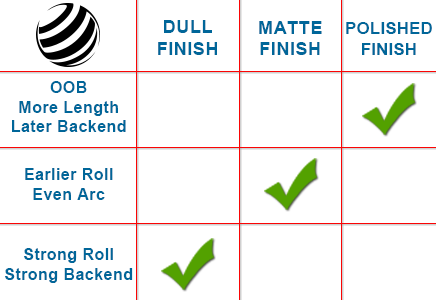 Customizing Your Surface

bowlingball.com is happy to offer this feature to customers purchasing one of Pyramid Bowling's new high performance balls, The Chosen Path Pearl.

We have come up with a few options to help you fine tune the ball motion to perfectly fit your game and to allow you to truly Choose Your Path.

Pyramid Chosen Path Pearl
This ball comes out of the box (OOB) at 2000 grit Abralon with Factory Polish. This is how we suggest you throw the ball if you are unsure of what surface you want to use. We have tested this ball extensively and found this surface provides the optimum ball motion from a ball in this performance group. This surface offers a clean look through the heads with plenty of length and motion off the breakpoint.

Our "Earlier Roll/Even Arc" adjustment will offer a heavier grit finish of 500/1000 which will allow your new Path performance ball to roll up sooner and give you a smoother ball motion down lane. This may be used on heavier volume lane conditions or when you don't want to get too much reaction off of the breakpoint.

Our "Strong Roll/Strong Backend" option will deliver your new Path to you with a 500/2000 grit surface. This surface will allow you to use your new Path Origin on medium to heavy volumes of oil and provide an earlier motion without sacrificing backend hook.

Our final option is for you to let us know how you want your finish customized. If you select this option we ask that you click on the "Product Specific Requests" link just below this drop down box and type in your finish preference. If our team has any questions we will contact you before we make any adjustments to your ball.